★★★★☆ New release Tuesday!

Glitter has a tough premise and setting to describe, but I'm going to give it a go. In the future, there is an entire palace full of people who live like they are in Victorian Versailles. They wear corsets and fancy clothes every day, all day. Yet it's also futuristic — there are robot maids, the people communicate through specialized contact lenses, and more. So it's a futuristic sci fi historical fiction novel. The blurb for this book labels it as Breaking Bad meets Marie Antoinette. I'd say that's pretty accurate. (Also, *swoon* that cover though!)
With all that being said, let's get into it. The main character, Danica, is set to marry the ruthless king of Sonoman-Versailles. He's done some pretty horrendous things (read: a murder and subsequent coverup), and she'd rather escape and leave her family and friends behind than marry him. So Danica finds a way to sneak a new drug called "Glitter" (seemed like an upper/hallucinogen-type drug) into the palace and sells it to make money to fund her escape.
Despite this book being a complete conundrum to describe, it's un-put-down-able. I flew thr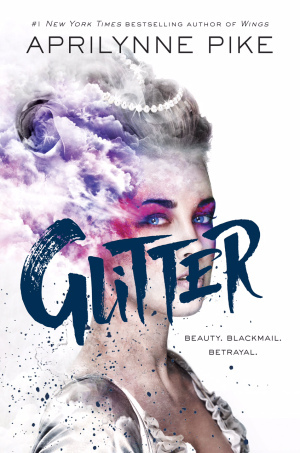 ough it. It's got a super interesting premise, love triangles, bad guys you hate, bad guys you love, awesome technology, a queen-to-be drug dealer, twists galore, and so much more.
This is the first book in the series, and I honestly would place the sequel on my to-be-released highly anticipated reads list.
Take one hit of Glitter — I promise you'll be hooked and begging for more.
I was given a copy of this book by the publisher for my honest review.